Chorizo: Red or Green always a delicious tradition!!
Chorizo can be a fresh sausage, in which case it must be cooked before eating. In Europe, it is more frequently a fermented, curegrilled chorizo.jpgd, smoked sausage, in which case it is usually sliced and eaten without cooking. Spanish chorizo and Portuguese cho uriço ge t their distinctive smokiness and deep red color from dried smoked red peppers. Due to culinary tradition, and the expense of imported Spanish smoked paprika, Mexican chorizo (and chorizo throughout Latin America) is usually made with chili peppers, which are used abundantly in Mexican cuisine. In Latin America, vinegar also tends to be used instead of the white wine usually used in Spain. Traditionally, chorizo is encased in natural casings made from intestines, a traditiona l method used since the Roman times.
Chorizo can be eaten as is (sliced or in a sandwich), grilled, fried, or simmered in apple cider or other strong alcoholic beverage such as aguardiente. It also can be used as a partial replacement for ground (minced) beef or pork.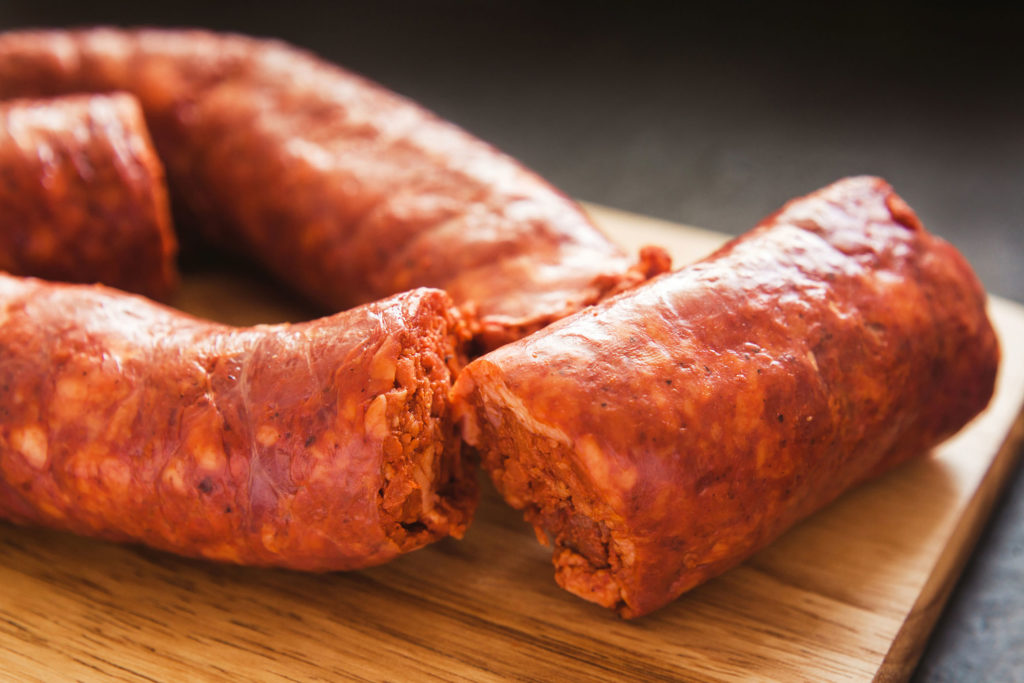 Based on the uncooked Spanish chorizo fresco, the Mexican versions of chorizo are made from fatty pork (however, beef, venison, kosher, and even vegan versio ns are know n). The meat is usually ground (minced) rather than chop ped, and different seasonings are used. This type is better known in Mexico and other parts of the Americas, and is not frequently found in Europe. Chorizo and longaniza are not considered the same thing in Mexico.
The area of Toluca, Mexico, known as the capital of chorizo outside of the Iberian Peninsula, specializes in "green" chorizo, which is made with tomatillo, cilantro, chilis, garlic or a combination of these. The green chorizo recip e is native to Toluca. Most Mexican chorizo is a deep reddish color, and is largely available in two varieties, fresh and dried, though fresh is much more common.
In Mexico, restaurants and food stands make tacos, queso fundido (or choriqueso), burritos, and tortas with cooked chorizo, and it is also a popular pizza topping. Chorizo con huevos is a popular breakfast dish in Mexico and areas of Mexican immigration. It is made by mixing fried chorizo with scrambled eggs. Chorizo con huevos is often used in breakfast burritos, green chorizo.JPGtacos and taquitos. A popular Mexican recipe in which chorizo is used as an ingredient is to combine it with pinto or black refried beans. This is done by simply frying the chorizo and then combining it with refried beans. This combination is often used in tortas as a spread, or as a side dish where plain refried beans would normally be served. In Mexico, chorizo is also used to make the popular appetizer chorizo con queso (or choriqueso), which is small pieces of chorizo served in or on melted cheese, and eaten with small corn tortillas. In heavily Mexican parts of the United States, a popular filling for breakfast tacos is chorizo con papas, or diced potatoes sautéed until soft with chorizo mixed in.
Fiesta Foods has the best quality signature chorizo and we're now introducing our Chorizo Verde- no won't find it elsewhere!!!